This online catalog is a work in progress and does not accurately represent everything in our store. Thank you for looking and please bear with us as we make this a great resource for you.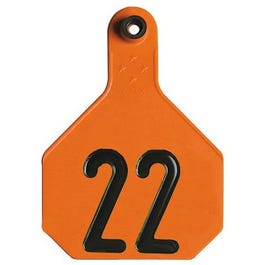 All American Livestock Tag, Numbered, Large, Orange, 25-Pk.
All American, 25 pack, large, orange, 4 star, 2 piece, numbered tag, numbered 1-25, made of an advanced polyurethane formulation, engineered to prevent cracking, remain flexible & provide excellent longevity, snap-lok feature is for superior retention & has ultraviolet inhibitors to resist fading.
---
We Also Recommend