This online catalog is a work in progress and does not accurately represent everything in our store. Thank you for looking and please bear with us as we make this a great resource for you.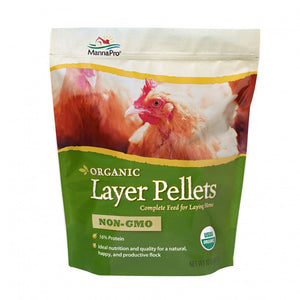 Manna Pro Organic Layer Pellets
You nurture your hens. You feed them  table scraps, provide them with a safe and comfortable home, perhaps even name them.
All so you can reward them for the delicious eggs they provide for your family. Now you can nurture them naturally with Manna Pro® Certified Organic Layer Pellets. Made without pesticides, medications, or genetically-modified ingredients, our pellets are USDA Certified Organic so you can have the utmost confidence in your feed. Plus, our pellets contain the highest quality nutrition you've come to expect from Manna Pro.
USDA certified organic and non-GMO
16% protein
Ideal nutrition and quality for a natural, happy,  and productive flock
Product Facts Guaranteed Analysis
---
We Also Recommend