This online catalog is a work in progress and does not accurately represent everything in our store. Thank you for looking and please bear with us as we make this a great resource for you.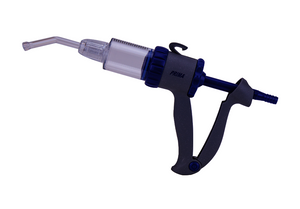 NEOGEN Corporation Ideal® Prima® Pour-Ons
Item No. 
352910
Dial-a-dose system for easy dose adjustments
Shower head nozzle to avoid wastage from splashing
Angled nozzles for easy administration
Prima® Pour-On guns allow for adjustable dosage increments with an accurate and easy to use dial-a-dose system. The syringes have a shower head nozzle which avoids wastage from splashing. The nozzles are angled for easy administration of pour on medication; a T-bar applicator is also available. Syringes are packed with soft medical grade tubing, hose armor springs, and nozzle.
| Specifications | |
| --- | --- |
| Brand | Ideal® Instruments |
| Case Count | 12 |
| Case Weight | 13.00 |
| Footnotes | T-bar applicator is also available. |
| Package Weight | 1.08 |
| Quantity per Package | 1 |
| Species | Beef, Dairy, Equine, Sheep, Goat, Mixed |
---
We Also Recommend