This online catalog is a work in progress and does not accurately represent everything in our store. Thank you for looking and please bear with us as we make this a great resource for you.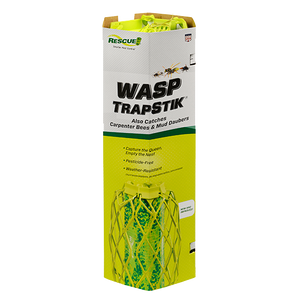 Rescue TrapStik, Wasp
Uses our exclusive VisiLure® technology to lure the target insects with appealing colors and a multi-dimensional pattern. Insects are attracted by the colors and patterns on the TrapStik, then get stuck on the adhesive surface.
Unique Features & Benefits
Glue guards provide protection for birds, bats and other small animals
Odor-free
Pesticide-free
Weather-resistant
Catches queens and workers, spring through fall
Can be placed near a nest to reduce populations, making it safer to spray
Made in USA
---
We Also Recommend