This online catalog is a work in progress and does not accurately represent everything in our store. Thank you for looking and please bear with us as we make this a great resource for you.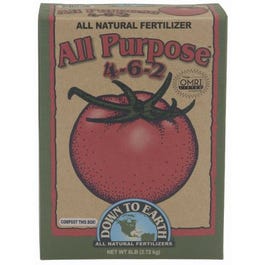 All-Purpose Fertilizer Mix 4-6-2 Formula, 5-Lbs.
5LB, ALL PURPOSE MIX 4-6-2, a gentle, non-burning fertilizer perfect for vegetables, herbs, flowers and container plants. OMRI certified. Ingredients: Fish Bone Meal, Blood Meal, Feather Meal, Alfalfa Meal, Rock Phosphate, Langbeinite, Greensand, Humates and Kelp Meal.
---
We Also Recommend