This online catalog is a work in progress and does not accurately represent everything in our store. Thank you for looking and please bear with us as we make this a great resource for you.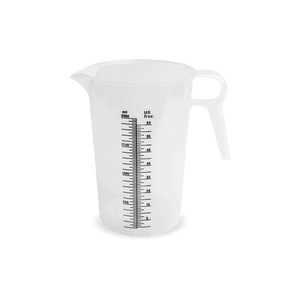 Axiom Products Accupour 64oz Measuring Pitcher 2 liter
At Axiom Products, we designed our ACCUPOUR line of measuring pitchers to meet the chemical handling needs of your customers, and we started with materials. Our measuring pitchers feature durable construction and are made from food-grade polypropylene that's also chemical resistant to withstand virtually any application.
Accurate Measuring, Guaranteed
Our ACCUPOUR pitchers also offer raised measuring graduations in both US fluid ounces and metric units to ensure easy, accurate measuring. Because the measuring scale is built into the mold instead of printed on, we guarantee the consistency and accuracy of every pitcher we produce. The raised measuring scale is also debossed in black for improved readability.
Ergonomic Design
We built our ACCUPOUR pitchers to provide more than consistent, reliable measuring instruments. We also designed them with ergonomics and regular use in mind. Our unique handle offers improved user comfort, even when wearing gloves or other safety equipment. The open handle also provides improved control and stability, and the spout is designed to never drip or spill.
All of our ACCUPOUR measuring pitchers feature:
Raised graduations in US fluid ounces and metric units to ensure accurate measurements
Debossed black markings for easy reading
Unique handle for improved user comfort and stability, even with a gloved hand
Open-bottom handle to make stacking and storing pitchers in limited space easier
Versatile spout that provides excellent pouring control from a fine trickle to a fast pour
---
We Also Recommend