This online catalog is a work in progress and does not accurately represent everything in our store. Thank you for looking and please bear with us as we make this a great resource for you.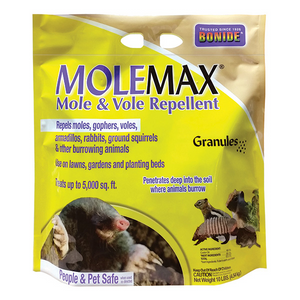 BONIDE MOLEMAX MOLE AND VOLE REPELLENT
Bonide MoleMax Mole and Vole Repellent not only protects your lawn by repelling moles and voles, but also gophers, rabbits, armadillos, ground squirrels and skunks. Great for use in lawns, flowerbeds and gardens, these clean, dustless, biodegradable granules are safe for use around children, plants and pets. One 10 lb package of Bonide MoleMax Mole and Vole Repellent treats up to 5,000 square feet and lasts up to 3 months.
---
We Also Recommend