This online catalog is a work in progress and does not accurately represent everything in our store. Thank you for looking and please bear with us as we make this a great resource for you.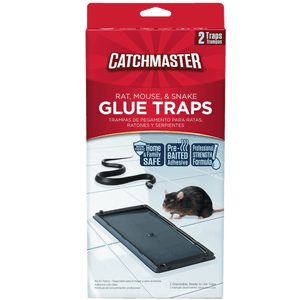 Catchmaster RAT, MOUSE, & SNAKE GLUE TRAPS
Catchmaster® Baited Rat, Mouse & Snake Size Glue trays come in the same strong formula that the pro's use. It is safer to use around children and pests than other methods of pest control. The trays are ready to use, no additional baits needed. Use as an alternative to glue boards that may not hold up as well in damp or humid areas like basements or bathrooms.
When deployed under normal conditions our long-lasting traps are effective for up to one full year. Our adhesive formula has been specially designed to prevent hardening that can limit effectiveness.
---
We Also Recommend