This online catalog is a work in progress and does not accurately represent everything in our store. Thank you for looking and please bear with us as we make this a great resource for you.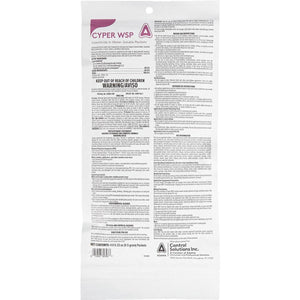 Cyper WSP 9.5 Gm. Ready To Use Powder Insect Killer
Effective insecticide in water soluble packets. Crack & crevice or spot treatment treatment for long-lasting residual and quick knockdown contact control of ants, carpenter ants, cockroaches, crickets, spiders, and other listed insects. Use in, on, and around buildings and structures for the control of pests. Can also be used on lawns, ornamental trees, and shrubs around residential, institutional, public, commercial, agricultural, and industrial buildings, parks, recreational area, and athletic fields. Water soluble pack quickly dissolves in water to creates a ready to apply solution. Active Ingredient: Cypermethrin.
---
We Also Recommend