This online catalog is a work in progress and does not accurately represent everything in our store. Thank you for looking and please bear with us as we make this a great resource for you.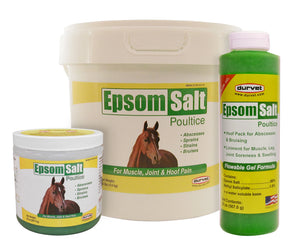 Durvet Epsom Salt Poultice
Topical gel designed for external application for temporary relief of minor pains, bruises, and sprains associated with muscle and joint injuries.
Usage
Horses
Benefits
Provides the benefits of epsom salt in a rub
Relieves soreness
Relaxes muscles
Can be used on abscessed hooves
Will not burn or blister skin
Ingredients
ACTIVE INGREDIENT:
Epsom Salt........................60%
Methyl Salicylate...............1.0%
INACTIVE INGREDIENTS: In a water soluble base
Directions
Apply to painful or swollen muscles, legs, joints or insect bites. Durvet's Epsom Salt Poultice can be covered with cotton and/or wrapped. Will not burn or blister skin. Let draw and soothe for 36 to 48 hours. Repeat as needed for relief of soreness and swelling.
FOR HOOVES: Pack the entire sole and frog to draw abscesses or address sole bruising. Cover with a wrap or boot and let draw for 36 to 48 hours.
Packaging
| Name | Code | Unit Size | Case Size | Case Weight |
| --- | --- | --- | --- | --- |
| Epsom Salt Poultice | 7-45801-10691-8 | 20 oz. | 12 | 17 |
| Epsom Salt Poultice | 7-45801-10690-1 | 20 oz. | 12 | 16 |
| Epsom Salt Poultice | 7-45801-10692-5 | 10 lb | 4 | 42 |
---
We Also Recommend