This online catalog is a work in progress and does not accurately represent everything in our store. Thank you for looking and please bear with us as we make this a great resource for you.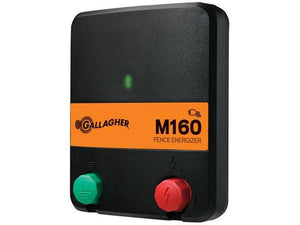 GALLAGHER M160 CHARGER
Power up to 100 acres or 30 miles of clean fence with the Gallagher M160 Fence Energizer. With 1.6 stored joules the M160 is ideally suited for small pastures.  Reliable animal control is assured with integrated lightning protection.
---
Robust and reliable made to last with tough outer casing and built in lightning diverter
Easy to use and install with simple fence terminals and hassle free mounting
Check power at a glance with the power on indicator
Ideal for small pastures
3 year warranty
ADVANTAGES OF ELECTRIC HORSE FENCING:
Affordable: Electric fence is 50% less expensive to build and maintain than barbed wire.
Easily constructed
Low maintenance
Lightweight and portable
Durable: due to low physical contact
Easily modified or expanded
Keeps animals in and predators out
---
We Also Recommend