This online catalog is a work in progress and does not accurately represent everything in our store. Thank you for looking and please bear with us as we make this a great resource for you.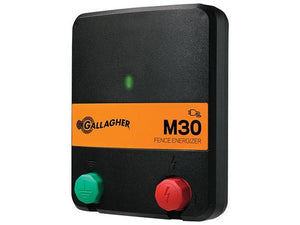 GALLAGHER M30 CHARGER
Powers up to 20 acres or 5 miles of clean fence. With 0.3 stored joules the M30 is ideally suited for small pastures and gardens.
---
Robust and reliable made to last with tough outer casing and built in lightning diverter
Easy to use and install with simple fence terminals and hassle free mounting
Check power at a glance with the power on indicator
Ideal for small pastures
3 year warranty
UL Approved

---
We Also Recommend