This online catalog is a work in progress and does not accurately represent everything in our store. Thank you for looking and please bear with us as we make this a great resource for you.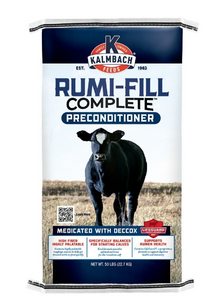 Kalmbach Rumi-Fill Complete™ (Medicated)
A highly palatable, high fiber complete feed specifically balanced for starting calves on feed. Medicated for the prevention of coccidiosis.
High Fiber Complete Feed – contains highly palatable roughage sources to get stressed cattle on feed quickly.
Specifically Balanced for Starting Calves – fixed formula provides optimal nutrition for the transition calf.
Proprietary blend of ingredients to support rumen health.
Medicated with Deccox® for the prevention of coccidiosis caused by Eimeria bovis and Eimeria zuernii.
26.00%
Feed as the sole grain ration for at least 28 days during periods of coccidiosis exposure or when experience indicates that coccidiosis is likely to be a hazard. This product should be fed at the rate of 2.0 pounds per 100 pounds of animal body weight in order to supply 22.7 mg Decoquinate per 100 pounds of body weight. Fresh water, free choice salt and mineral should be available at all times.
Do not use with feeds containing bentonite.Do not feed to cows producing milk for food.
---
We Also Recommend