This online catalog is a work in progress and does not accurately represent everything in our store. Thank you for looking and please bear with us as we make this a great resource for you.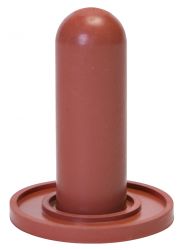 Little Giant Screw-On Calf Nipple for use with 93SC Nipple Cap
This is a tough nipple that can withstand aggressive nursers yet is soft and pliable. Made with a special rubber formula for long life and improved pliability. This nipple style must be used with a Little Giant Screw-On Nipple Cap (Item Nos. 93SC and 93SCPK, each sold separately); the nipple does not attach to the bottle with out separately purchased Screw-On Cap. Nipple is 1 inch diameter by 3 inch long.
---
We Also Recommend