This online catalog is a work in progress and does not accurately represent everything in our store. Thank you for looking and please bear with us as we make this a great resource for you.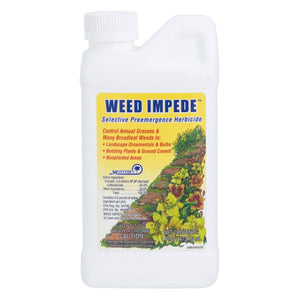 Monterey Weed Impede 1 Pt. Concentrate Weed & Grass Killer
Pre-emergence herbicide for use on ornamentals, trees, roses, bulbs, iceplant, and garden grown fruit trees. Ideal for use around landscape ornamentals and bulbs, bedding plants and ground covers, or non-planted areas. Economical - 1 pint treats 5000 to 10,000 square feet. Provides up to 6 months control of grasses and weeds. Tank mix with Remuda in non-planted areas. Active ingredient: Orzalin:3,5-Dinitro-N4. Glyphosate-free.
---
We Also Recommend