This online catalog is a work in progress and does not accurately represent everything in our store. Thank you for looking and please bear with us as we make this a great resource for you.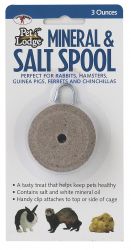 Pet Lodge Mineral and Salt Spool with Hanger
A tasty treat that provides the salt and trace minerals that small animals need to maintain good health. Formulated for rabbits, hamsters, guinea pigs, ferrets, and chinchillas. Hanger snaps to the top or side of a wire hutch to provide free-choice feeding (animals will consume only what they need). Spool is 2 inch in diameter by 1 inch thick. Metal wire hanger measures 1.5 inch wide by 2.75 inch high.
---
We Also Recommend