This online catalog is a work in progress and does not accurately represent everything in our store. Thank you for looking and please bear with us as we make this a great resource for you.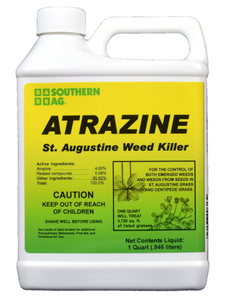 Southern Ag Atrazine St. Augustine Weed Killer
Kills many broadleaf weeds
Also used in centipede grass
Provides suppression of crabgrass
Controls emerged weeds and weeds from seed
CONTAINS: 4% Atrazine
USE ON: St. Augustine and centipede lawn grasses.
CONTROLS: Many common grassy and broadleaf weeds.
RATE: 4.33 ounces per 500 sq. ft. per
1 gallon of spray
APPLICATION: Apply in 2 gallons of water to cover 1,000 sq. ft.
CAUTION: SPRAY TO ACCURATELY OBTAIN INDICATED COVERAGE WITHOUT OVERLAP. NOT RECOMMENDED FOR USE WITH HOSE-END SPRAYERS. Best results are obtained by application in early spring.
PACKED: 12 x Qt. – #00613, and 4 x Gal. – #00614
---
We Also Recommend