This online catalog is a work in progress and does not accurately represent everything in our store. Thank you for looking and please bear with us as we make this a great resource for you.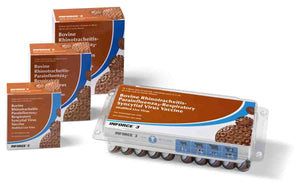 Zoetis INFORCE 3® Respiratory Vaccine
Bovine Rhinotracheitis-Parainfluenza 3-Respiratory Syncytial Virus Vaccine (Modified-Live Virus)
For beef cattle producers respiratory disease can challenge young calves, and even the cow herd. INFORCE 3®, an intranasal respiratory vaccine, the market leader since 2015,1 is for the vaccination of healthy cattle, including pregnant cows, to help protect against respiratory disease caused by bovine respiratory syncytial virus (BRSV), infectious bovine rhinotracheitis (IBR) virus and parainfluenza 3 (PI3) virus.
Indications: Helps protect against respiratory disease caused by BRSV, IBR and PI3.
---
We Also Recommend